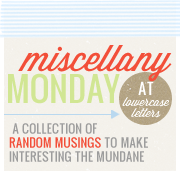 I have been wanting to participate in *miscellany monday* for a few weeks but never had much to say. Carissa's post was all about Valentine's Day. I thought I would post a few bits of my Valentine's day too.
The Weather
Has it not been gorgeous outside, Atlantians? The day time weather has been almost pushing 60. Which, in my book, it's warm enough to open the door for a half an hour and let fresh air in the house. It's warm enough to wear a skirt and tights. It's warm enough to crack the windows in the car on the commute home.
And the skies are blue. Clear, blue.
My Joyfulstar Etsy Jewelry
The owner of this shop is my dear friend Ashley over at
OurLittleApartment
. She and I went to college together. She lives in Ohio with her husband and little baby with precious rolls, named Gabe. Ashley not only does awesome graphic work (she designed our wedding invitations) but she makes cute earrings, bags, and coffee sleeves. I get compliments on these earrings all the time (I have them in two colors), and on my coffee sleeve (which lives in my purse).
But the best part of my Monday / Loveday was that I discovered the little ring she had tucked in my Etsy order from her shop. It matches the earrings and was the perfect warm red for Valentine's Day.
Anyone who knows me pretty well knows that one of the priests at our parish LOVES to play pranks on the office staff me. Nothing to serious, but usually enough to get my heart racing. Well, instead of finding his junk mail or trash in my purse as per usual, for Valentine's Day he left me a little chocolate heart. And then came by my desk multiple times to say, "Don't say I never did anything nice for you"
Honestly, I think he was looking for a ride to Starbucks ;-)
Eric was gone all weekend on a Men's Retreat, so we needed to play catch up on the last few days, but I also wanted to hear all about the weekend. And, Sunday night's homily at Mass was about marriage and spending spiritual dates together. Basically Fr. D said that all too often couples schedule time to talk about money, the kids, watch TV together, etc Instead, he challenged us to spend time together (scheduled if we need to!) to talk about where we are in our faith life and on our spiritual journey.
So Sunday night we decided that for Valentine's Day we'd make a healthy and yummy dinner and spend the evening sharing about the retreat and where we are in our faith lives. Honestly, this is one of the most romantic dates we have in a long time. I love it when we can be open and bare our souls to one another. It's what we were made to do, we just fail to do sometimes. PS: I love my husband!
Our dinner turned out mighty tasty too. We had Eggs Benedict Salad and "Cream" of Broccoli Soup. Both from scratch. Both from
The Primal Blueprint Cookbook: Primal, Low Carb, Paleo, Grain-Free, Dairy-Free and Gluten-Free
(and the winner of the longest cookbook title in the history of the world goes to.....) Yum!
Happy Monday Valentine's Day!