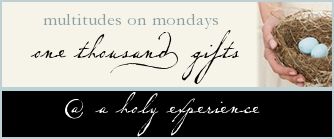 It's not monday. Nor did I post last week. I have two excuses. Both are lame. My journal was in the black hole that is the back seat of my car. Once I rescued it, I caught up on my list, but then traveled for 4 days including a monday. Here we go...
71. the technology allowing us ultrasounds
72. an understanding midwife
73. health insurance
74. organic food
75. girlfriends
76. blog friends
77. air conditioning
78. healthy conversations with co-workers
79. maternity jeans
80. warm showers
81. baby shower for other women
82. being told that I am "glowing" - especially by men
83. wandering Barnes and Noble with no purpose
84. Chick-Lit with happy endings
85. mid-day naps
86. phone calls with old friends
87. planning a plane trip
88. scrabble
89. free checked bags
90. uncharacteristically good moods
91. generous friends
92. Buddy passes
93. airport friends
94. layovers that force R&R
95. watching the sunrise over the clouds and rain
96. a second treat from the flight attendant
97. date nights with Eric
98. catching up with a college friend
99. organic, ethical meals at restaurants
100. going to 2 Top-Chef restaurants in two days... and being able to afford it.
101. Atlanta's skyline at night
102. quiet prayer time with other youth ministers
103. praying for friends discerning vocations
104. a day free from Twitter and Facebook because it's too filled with face-to-face deep conversations
105. being able to afford the luxury of free-time
These last two weeks I have been keenly aware of the gift I have been given in my free time, freedom, and financial situation. I have the time to drive 100 miles to meet a friend for dinner. I have the money to afford extremely nice meals out, and to choose to eat ethically. I have the time and money to fly across the country to visit friends for the weekend. I have the luxury of a job where I can spend half a day in prayer and good conversation with peers.
I am beginning to realize just how much I have and how much I take it for granted.