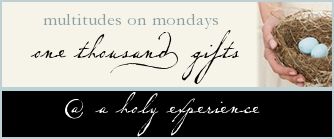 I am obsessed with food. I love to eat. The last few weeks I have had some food aversions, so I've learned to appreciate food in a new light. At the same time, I also challenged my self not to include so many food items in my list of Gifts this week. Doing so helped me see the world beyond my dinner plate, and for that alone I am thankful. I hope that this project will continue to help me re-view food.
One Thousand Gifts
31. Wandering the aisles at Whole Foods
33. Rain that cleans the windshield
36. A long walk along the river with Eric, sharing about our hobbies
37. Pregnancy announcement from a close friend
38. Organic strawberries with gooey brownies
39. Reading on the couch, laying next to Eric
40. Praying together ....
47. Donating 3 bags of clothes
48. Snuggling on the couch
49. Visiting with friends at The Fred.
50. Fried pickles with blackened ranch dip
51. Spending time with Irene
52. Talking with my inlaws ......
55. Perfect temperature days
56. Beatification of John Paul II
57. Early morning Mass with Eric
58. Sunny brunch date in downtown Atlanta
59. Grown up conversations with my 14 year old cousin, Hilary
60. A fashion show celebrating modesty and girls of all abilities
61. Watching 10 years of history-in-the-making
62. A change of work plans that favored productivity
63. Supportive co-workers
65. My sister making me laugh so hard I almost peed my pants
66. My mom's adorable first tweets
67. An IM from Eric "I love you. And .... "
69. having a voice in youth ministry