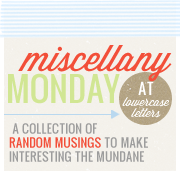 Eric and I had a good laugh over blogger friend Bethany's post about
her husband and skinny jeans
. Eric and Bethany's husband would be two peas in a pod (if we all ever met!). Engineers who hate
well fitting
skinny jeans, unite!
Evie was Baptized this weekend along side our nephew and now Godson, Zachary. Post coming soon! Eric and I were so filled with joy all day on Saturday. We equated it with our wedding day, minus the nerves. God is good!
You hear on sitcoms or in pop culture that marriage is the end of romance. I disagree, the romance just has a different face. Today, for instance, Eric emptied the dishwasher before he left for work. He didn't have to (okay, maybe he did...it is his chore), but it was nice that it was done in the morning so I could fill it during the day instead of waiting to do all the dishes at night.
Evie and I had our first playgroup with a group of women and children from church last week. It was so great to meet some new faith-filled mamas. I am looking forward to our future together.
I finished our 2011 photo book in iPhoto a few weeks ago but finally got around to ordering it yesterday. I can't wait to see it. I've also started working on a blog2print book of my old blog. I want to preserve it before it disappears from the Internet like my two college ones did.
We're taking advantage of this easy stage with Evie. I take her to bible study and occasionally to work. Eric stays home with her on Mondays so I can go to a photography class with my dad, and on Thursdays so I can go to a yoga class. Eric goes out occasionally after work or on a weekend afternoon. Our super-busy lives have certainly slowed down a bit with a baby, but they haven't come to a screeching halt. It's a good transition to having more children (God willing) when sneaking out for fun classes on week nights will become less likely.


What's on your mind today?