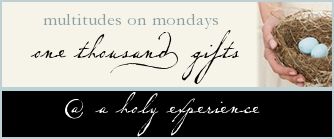 Thursday night Eric and I had a good hangout, catch up around the house, and talk night. My favorite kind of nights. I asked him what he thought about my Thousand Gifts lists idea. He said he'd like to see me post it as it would be good accountability for me to stick to a schedule (I love that he knows me so well), but that he feared I'd post things too private or personal. So we agreed. I could post the list, just be cryptic about anything too, too personal. Deal.
I am going to do the weekly blog link up called Multitudes on Monday - One Thousand Gifts. It was created and hosted by the author of the book.
I will keep a daily journal at home and then post my list here each Monday. I hope you enjoy, and begin to count the small blessings in your own lift.
One Thousand Gifts
Our apartment
Eric's job
My two jobs
The flexibility of my two jobs
My 5 am bowl of cheerios
Writing this post because I can't sleep
Pink polka dot pajama pants
Easter
Forgiveness
Family
Celebrating David & Paige's baby
Celebrating ........
Creme Brulee with Raspberries
Decaf Coffee
Brunch buffet
French toast
Family Easter Eggs Hunts (as adult kids!)
Decorating cakes
throwing a baby shower
Facebook (I missed you this Lent)
DSLR
Cousins
Connor
Blowing bubbles with Connor
Sunny Days
Flowers from Nannie
Sharing news.....
Good night sleep
home made waffles